Complete Story

01/13/2022
"Effective Client Communication" -- January 13, 2022
The seminar was conducted by David Ashcraft, Advantage Learning Systems.
"Effective Client Communication" -- January 13, 2022
The Electrical Contractor's Association of City of Chicago's Research and Education Committee was pleased to have presented a seminar called, "Effective Client Communication." The seminar was conducted by David Ashcraft, Advantage Learning Systems. The program was held on Thursday, January 13, 2022 at the Drake Oak Brook Hotel, Oak Brook, IL.
Here is a brief program description:
With all the effort it takes to get an appointment with a new prospect, don't miss the opportunity to win business because of a bad presentation. This program will discuss presentation preparation, awareness, techniques and leadership and provide strategies to influence any audience. Distracting appearance and auditory behaviors and how to reduce them will also be examined. Whether you present individually, or as part of a team, you will take away specific tactics proven to get your presentation off the ground and to land it effectively.
Multiple factors influence effective client communications including self-awareness, self-improvement, social awareness and relationship management. In this session, you will learn how to attract, build and maintain long lasting client relations. Better communication skills lead to more client trust, faster decisions and more referrals. This class will benefit those with 1 or 20 plus years of experience.
Following this course, participants will be able to:
Explain how to build stronger rapport and trust (and maintain it)


Discuss ideas to connect with clients faster


Ask better questions to uncover client priorities (Hot Buttons) and their pet peeves.


Identify techniques that improve listening skills (You can't ask great questions if you aren't listening)
Identify distracting appearance and auditory behaviors and how to reduce them


List tips to illustrate ideas and improve collaborative communication


Analyze characteristics of a poor listener


Explain how to interpret nonverbal responses
We thank Mr. Ashcraft for his time with the program!

David Ashcraft
Advantage Learning Systems
David Ashcraft is an expert in transforming tortuous subject matter into educational, engaging, and entertaining material. For over 20 years, David has assisted businesses drive better results in the areas of finance and communication. He works closely with clients to align with their goals, design solutions and deliver training programs that improve profitability and cash flow. He received his BA from Washington State University and is a graduate of Pacific Coast Banking School, where he later served as an associate director. David has taught at Graduate School of Banking Colorado and Graduate School of Banking at LSU.
Partial list of clients include:
Corporations: Microsoft ● Amazon ● CBRE ● Tableau ● Alteryx ● Cushman and Wakefield ● Chase Bank ● Wells Fargo ● McKinstry ● Turner ● Vistage ● TEC Canada
Contracting Associations: NECA ● MCA Chicago ● MCA of Metropolitan Washington ● California PMCA ● MCA Kansas City ● New England MCA ● BTEA of New England
Pictured above is David Ashcraft, Advantage Learning Systems,
as he began the program.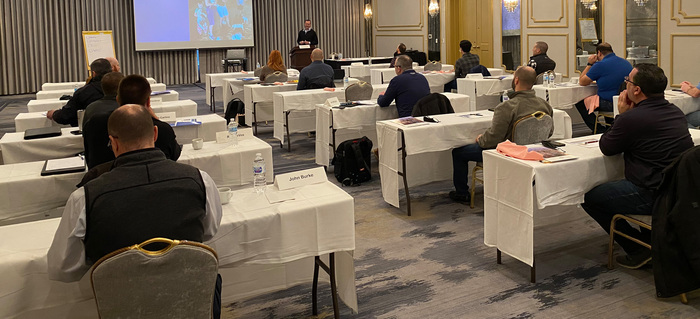 Pictured above are the attendees.
---