Complete Story

03/15/2023
Powering Chicago's new YouTube Series releases Episode 4 - March 15th, 2023.
Subscribe to Powering Chicago's YouTube Channel to catch all the episodes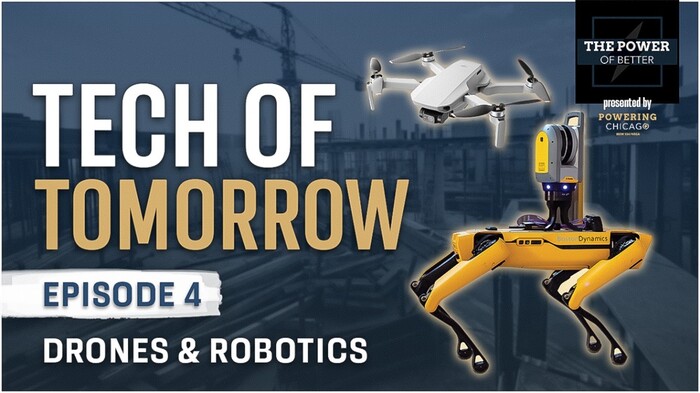 Today Powering Chicago launched the fourth episode of its new YouTube series, The Power of Better.
This episode brings viewers to Oracle Industry Lab for a look at how drone technologies are changing the electrical construction industry and to a construction site to show how advanced robotics are helping contractors to maximize efficiency and to control costs. Check out the episode exclusively on the Powering Chicago YouTube channel.
How drone technology is increasing profitability in construction
In the first episode segment, to learn more about ways that drone technology is being used to improve the industry, the Executive Director of Powering Chicago and host of The Power of Better, Elbert Walters III visits the Oracle Industry Lab in Deerfield, IL. There, Walters met with the Vice President of Innovation at Oracle Industry Lab, Burcin Kaplanoglu.
Kaplanoglu introduced Walters to the new technologies and discussed ways they can be used to improve job site safety, collect data more effectively, check the health of an electrical system, and more.
How robotics are improving safety, efficiency, and cost-effectiveness
In the second segment, Walters visits a South Loop high-rise building that uses robotic dogs and Robotic Total Stations (RTS) to build out a raw space.
"Robotic Total Stations are replacing the traditional method of doing your layout," said Nick Dionne, Building Point Midwest. "So, as opposed to reading your blueprint and measuring with a tape measure, you can upload your 2D or 3D drawing into the Trimble tablet, and the prism on the tablet communicates with the robot, so it knows where you are on the job site."
Some of the professionals you'll have the opportunity to hear from include:
Burcin Kaplanoglu, Vice President of Innovation at Oracle Industry Labs
John Weir, Vice President at Kelso-Burnett
Nick Dionne, Field Technology Account Executive at Building Point Midwest
John Stepanian, Journeyman electrician at Maron Electric
If you're a contractor that's looking for creative ways to use the technologies you have or if you're curious to learn more, this episode is a must-watch. Subscribe to Powering Chicago's YouTube channel to ensure you're notified every time a new episode drops this year.
---