Complete Story

02/23/2023
NECA Electrical Contractor Essentials: Business & Field Operations February 21 - 22, 2023
The two-day program was held at the Loews Hotel in Rosemont, IL.
NECA Electrical Contractor Essentials:
Business & Field Operations
February 21 - 22, 2023
NECA Education, along with the support of the ECA Research and Education Committee, coordinated a recent two-day program called, Electrical Contractor Essentials: Business and Field Operations, which was held on February 21 – 22, 2023 at the Loews Hotel in Rosemont, IL. 30 attendees from area NECA Chapter were able to participate. A third of the registrants were from the Chicago & Cook County Chapter. This class was designed specifically for NECA's small and medium-sized contractors. Several industry experts discussed several of the essential elements that all contractors need to know.
The program topics included: Finance, Legal, Insurance, Bonding & Risk Management, Material Management, Productivity and Construction Technology. Listed below are the topic summaries:
Finance
This session will discuss the key financial processes, facts, and figures that you need to be constantly aware of to keep the company running smoothly. Following the class, you'll have an understanding of the components of financial statements, cash flow, profit fade, work in process schedules, cycle time, and the concept of margin versus markup.
This session was led by David O'Brien, CPA, Director of Construction Services at Mosley, Pfundt, Glick & O'Brien.
Legal
The legal issues that electrical contractors can face are diverse and this session will focus on three key areas. First, every company routinely signs contracts for products and services, but those contracts may not be in the best interest of your company. Recommended clauses and provisions, what they mean, which ones to avoid, and how to include the correct ones will be discussed. Next, important wage and hour changes will be reviewed to assist you with staying in compliance to avoid an audit or lawsuit. Finally, every business may face an incident or allegation that must be internally investigated. It is critical to conduct such an investigation or self-critical analysis in an effective manner, and this presentation will center on best practices in this area.
This session was led by James Fagan, NECA's General Counsel and Vice President of Risk Management
Insurance, Bonding & Risk Management
While you may have insurance policies in place, you may not be adequately covered. This session will discuss common coverage concerns and factors that affect business insurance premiums. Risk management culture, best practices for fleet/driving, as well as bonding, will also be discussed.
This session was led by Nate Hoyle, Rick Johnson, and Bill Walters from Federated Insurance.
Material Management
Planning and managing materials on a project can take up a significant amount of time before you even get to the jobsite and then also have a significant impact on the labor effectiveness on the jobsite. While the contractor is responsible for the results, the supply chain is a large and complex ecosystem and often difficult to navigate. The current state of the supply chain, the "digital thread concept," industry-proven best practices, and useful tools to see more predictable, efficient, and profitable projects will be discussed.
This session was led by Mike Carroll of Graybar.
Productivity
Measuring and tracking productivity is key to being able to improve it. This session will discuss how to benchmark and identify field productivity and identify areas of waste. Methods to improve productivity among your staff, as well as subcontractors, will also be discussed.
This session was led by Mark Federle of Marquette University
Construction Technology
Project delivery methods and building systems are growing increasingly complex. Owners and GCs continue to push tighter schedules and control cost, all while we are expected to adapt to their ever-changing expectations. How do electrical contractors meet these growing demands and position themselves to be successful in our fast-changing industry? This session will discuss what is driving these changes and what tools are available to help ECs shift from a low bid mindset to being seen as a trusted project consultant. We will explore how these new technologies expose strengths and weaknesses and help us identify opportunities to increase margins while reducing risk.
This session was led by Jared Christman from ELECTRI International.

We thank NECA Education, the Speakers, the ECA Research and Education Committee for coordinating the sessions. We especially thank the many NECA members that were able to attend this unique program!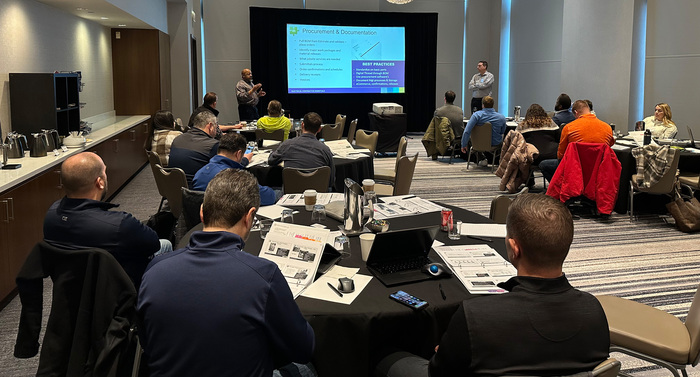 Pictured above are Quintin Henry (leftside of photo) and Mike Carroll, both from Graybar,
starting up the second-half of their presentation.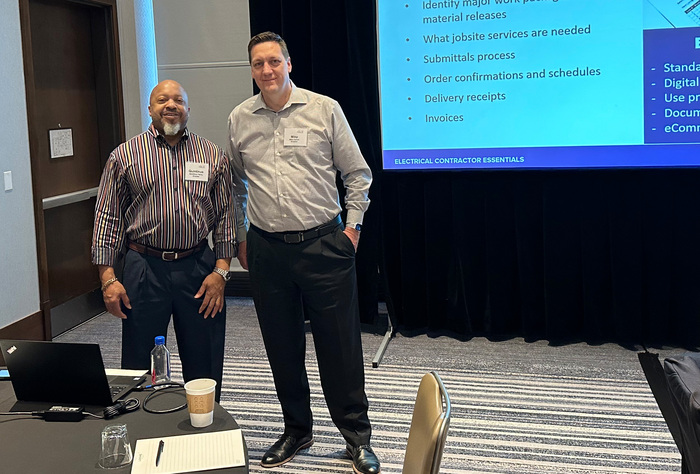 Pictured above from left to right from Graybar are:
Quintin Henry and Mike Carroll.
---