Complete Story

02/02/2023
"Crew Level Production Planning and Execution: Set Goals and Win" Seminar
The program was held on February 2, 2023
"Crew Level Production Planning and Execution: Set Goals and Win" Seminar
The Electrical Contractors' Association of City of Chicago (ECA) Research and Education Committee was pleased to have presented the seminar called, "Crew Level Production Planning and Execution: Set Goals and Win." The program was conducted by David Morton, Maxim Consulting Company. The program was held on a Thursday, February 2, 2023 from 8:00 am - 4:00 pm. at the Drake Oak Brook Hotel, 2301 York Road, Oak Brook, IL.
Program background:
Case studies dispel common myths and pitfalls of typical field productivity approaches. Case studies illustrate effective Crew Level Production Planning techniques, including: visual batching of work, input worksheets, resource (manpower) loaded scheduling, and labor cost analysis, simple daily productivity tracking and forecasting, and effective, measurable improvement strategies.
Following this course, participants will be able to:
Define and measure productivity
Discuss case studies and real examples of planning tools designed to set targets and manage labor productivity for superior results
We thank Dave for his time and expertise with the presentation!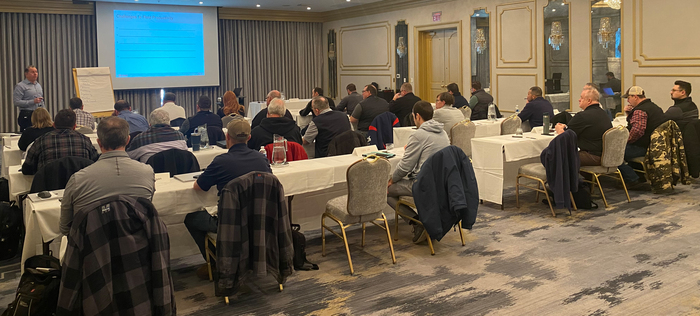 Pictured is Dave Morton, Maxim Consulting, as he began the program.
---