Complete Story

01/11/2023
ECA Executive Committee Welcomes New Members / New Officers
ECA Executive Committee Welcomes New Members / New Officers
The Electrical Contractors' Association of City of Chicago (ECA) welcomed new members to the Executive Committee, thanked an outgoing President and Governor for their years of service and brought in the new Officers during its Executive Committee meeting held on January 11, 2023.
The ECA wishes to thank Rick Jamerson, Jamerson & Bauwens Electrical Contractors, Inc. for his years as ECA President from 2019 - 2022. Rick has now been appointed NECA Governor for the Chapter.
The Association wishes to thank Eric Nixon, outgoing NECA Governor, Maron Electric Company for his years as Governor from 2019 - 2022.
The Association also welcomes Bob Fimbianti, as the ECA President, Linear Electric, Inc., Katie Canino, ECA Vice President, Canino Electric Company and Mark Thomas, ECA Executive Vice President & Secretary.
The newest members of the ECA Executive Committee are: Bill Cullen III, Sharlen Electric Company, Mallory Gurtz, Gurtz Electric Company and Thomas Pedergnana, Malko Communication Services, LLC.
The ECA thanks all of the Executive Committee members for their service:
Katie Canino, Canino Electric Company
Bill Cullen, III, Sharlen Electric Company
Kendra Dinkins, Taylor Electric Company
Bob Fimbianti, Linear Electric, Inc.
Mallory Gurtz, Gurtz Electric Company
Rick Jamerson, Jamerson & Bauwens Electrical Contractors, Inc.
Jerry McGlynn, McWIlliams Electric Company, Inc.
Gary Miskca, Lyons Electric Company, Inc.
Thomas Pedergnana, Malko Communication Services, Inc.
Thomas Rivi, G & M Electrical Contractors Company
Nick Santoro, JMS Electric, Inc.,
WC Schult, Super Electric Construction Company
Michael Schwarz, Continental Electrical Construction Company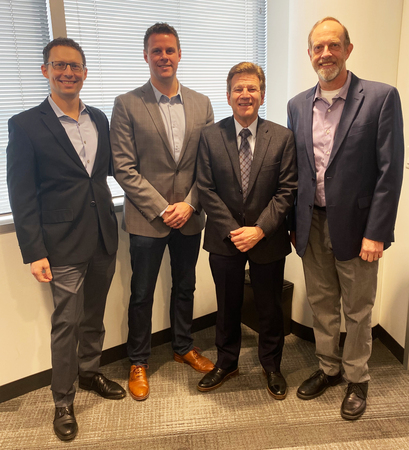 Pictured above from left to right are:
Thomas Pedergnana, Malko Communication Services, LLC,
Bill Cullen, III, Sharlen Electric Company,
Bob Fimbianti, ECA President, Linear Electric, Inc. and
Rick Jamerson, NECA Governor, Jamerson & Bauwens Electrical Contractors, Inc.
(Not pictured: Katie Canino, ECA Vice President, Canino Electric Company and
Mallory Gurtz, Gurtz Electric Company)
---