Complete Story

11/30/2022
Powering Chicago Sponsors the City of Chicago's 109th Annual Tree Lighting Ceremony to kick off the holiday season!
McWilliams Electric light's up this years tree in honor of the company's 100th Anniversary
Powering Chicago, the labor management partnership of IBEW 134 and the Electrical Contractors' Association of Chicago & Cook County, kicked off the holidays by presenting the 109th Chicago Tree Lighting Ceremony at Millennium Park on Friday, November 18th.
This year McWilliams Electric Company was invited to take on this holiday tradition in honor of the Company's 100th anniversary. "We're grateful for the opportunity to spread cheer and give thanks by helping Chicagoland kick off the holiday season," said James J. McGlynn, Sr., President and CEO of McWilliams Electric Company. "After 100 years in business, we're still amazed at the level of talent of IBEW journeypersons and lighting up Chicago's extraordinary tree highlights the experience, reliability and safety they bring to each and every project."
ECA Congratulates James McGlynn Sr, Jerry McGlynn and family, Maureen Mikulski, Scott Swayze, and the entire team at McWilliams on an exceptional job well done on the City's official Christmas tree and their 100 year milestone!
The 109th Annual City of Chicago Christmas Tree in Millennium Park will shine brightly near the intersection of Michigan Ave. and Washington St. from November 18 through January 8, 2023.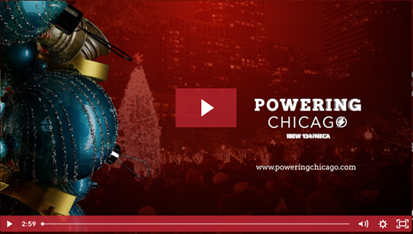 Subscribe to Powering Chicago's YouTube Channel to catch all the video's created throughout the year: www.youtube.com/@PoweringChicago
---