Complete Story

04/04/2022
Young Professionals of ECA Chicago at Windy City Curling Club
April 5th, 2022 at 5:00pm
The Young Professionals of ECA Chicago are pleased to host their next event at Windy City Curling Club in Villa Park!
Meet fellow members, and learn about this growing Olympic sport in a fun laid back experience. All Young Professionals working for ECA Member Companies are welcome to attend!
April 5, 2022 @ Windy City Curling Club
5:45pm - Short program led by YP Committee members to discuss content you would like to see incorporated into the 2022 Leadership Conference later this year.
6:15pm - Curling, kicked off by informational lesson by curling professionals. Group play to follow.
* Wear comfortable or athletic attire with gym shoes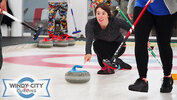 ---