Complete Story

02/07/2022
Powering Chicago Sponsors the Nation's Largest Auto Show, and it's first ever Indoor EV Test Drive Track
Chicago Auto Show: February 12-21, 2022 at McCormick Place
The Chicago Auto Show will debut an all-new indoor electric vehicle track electrifying the consumer experience at the 2022 show. Fueled in part by Powering Chicago, the labor-management partnership between International Brotherhood of Electrical Workers (IBEW) Local 134 and the Electrical Contractors' Association of Chicago and Cook County, the indoor track will feature a variety of electric vehicles ranging from the BMW i4 M50 to the Kia EV6, among others, where attendees can learn about and compare EVs side-by-side.
"Given the rapidly growing electric vehicle segment, the Chicago Auto Show serves as an ideal venue for attendees to learn about and experience brand-new EVs and explore whether or not owning one is right for them," said Chicago Auto Show Chairman Bill Haggerty. "Trained product specialists will be on hand throughout the entire show to highlight various aspects of the electric vehicles including technology, range and charging capabilities. The EV track builds on the momentum from our special edition summer show, where nearly 40 percent of attendees took a test drive or ride - a number we're hoping to top this year with a total of six total indoor test tracks!" "We are grateful for Powering Chicago's partnership on this new test track to help educate consumers about this increasingly important segment of vehicles," continued Haggerty.
Powering Chicago's New Mobile Field Trip Truck and Trailer to make it's Public Debut at 2022 Chicago Auto Show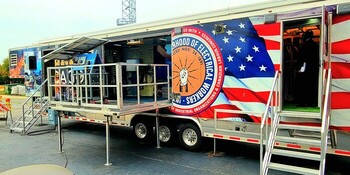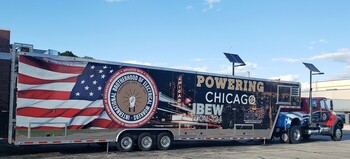 Powering Chicago will have a 73' interactive truck and trailer onsite to educate consumers on the capabilities of the union electricians and signatory contractors who install Chicagoland's electric vehicle infrastructure. The Powering Chicago's Truck and Trailer was designed as a "Mobile Field Trip", and will be a resource to Chicago schools to educate students on electricity, STEM activities, and careers within electrical construction.
"Powering Chicago is thrilled to be the premier sponsor of the 2022 Chicago Auto Show's first-ever electric vehicle track," said Powering Chicago Executive Director Elbert Walters III. "Electric vehicles are the future of automobiles and the expertly trained union electricians of IBEW Local 134 and their signatory contractors are ready to lead the charge towards that future. Powering Chicago and its partners are more than prepared to install the necessary infrastructure and components that power these vehicles. Powering Chicago's commitment to investing in our members ensures that the men and women hired to power this new generation of vehicles do so safely, on time and on budget."
The Powering Chicago indoor EV track is one of six indoor test tracks at the Chicago Auto Show - the most test tracks ever offered inside the show. Consumers can also jump behind the wheel of the latest SUVs and trucks from Ford, Jeep, Ram and Toyota plus experience an additional EV track located in the Ford exhibit featuring Ford's F-150 Lightning and Mustang Mach-E.
Tickets to the 2022 Chicago Auto Show are currently on sale at ChicagoAutoShow.com. The 2022 show runs Feb. 12-21 at McCormick Place and is open to the public 10 a.m. to 10 p.m. each day, except for the final day (Presidents Day) when the show closes at 8 p.m. The Chicago Auto Show will operate in full accordance with health and safety protocols required by the Illinois Department of Public Health. Visit the Chicago Auto Show website for the latest updates.
Please contact Carrie Spaeth at ECA Chicago, or Elbert Walters at Powering Chicago for more information.
---