Complete Story

03/10/2020
NECA Midwestern Region Conference
Registration has begun for the NECA Midwestern Region Conference (June 13 - 17, 2020)!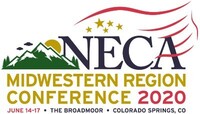 NECA Midwestern Region Conference
Listed in this article is the registration information, as well as a tentative schedule of events for the NECA Midwestern Region Conference.
The event will be held as follows:
JUNE 13 - 17, 2020
BROADMOOR RESORT
1 LAKE AVENUE
COLORADO SPRINGS, CO. 80906
(855) 634-7711
BROADMOOR RESORT
Since first opening their doors over a century ago, The Broadmoor has offered guests an incredible way to experience the unique beauty of the American West. Today, that tradition is met with warm, genuine hospitality and an unmatched selection of programs and activities that celebrate their magnificent surroundings.
KEYNOTE SPEAKERS
Dr. Gustavo Grodnitzky is a speaker, consultant, psychologist, and author whose diverse background brings a unique and multidimensional perspective to his global clients. After obtaining his Ph. D. in clinical and school psychology, he completed post-docs in both cognitive therapy and forensic psychology.
Karl Mecklenburg rose from a college walk-on and twelfth round draft choice to an NFL career that included three Super Bowl and six Pro Bowl appearances. This former Bronco's captain spent his entire twelve-year career in Denver and makes Colorado his home now. As an author and speaker Mecklenburg's stories of teamwork and leadership are humorous and inspiring.
Charles Richard Barnes is the President and Founder of C. Richard Barnes & Associates, LLC is a labor relations consulting firm which provides dispute resolution services, dispute resolution systems design, workforce training and development and leadership coaching to a cross-section of industry, labor, private, public and service organizations, both nationally and internationally.
CONFERENCE REGISTRATION
If you would like to attend the conference, on-line registration has begun. Please visit www.necanet.org to register for this event. Also, please send a copy of your on-line transaction to the Association office. This will allow us to have a record of your registration information should you need any assistance after registering, as well as aid us in reimbursement(s) and preparing for the Chapter event.
The registration fee is $700.00 per NECA member and $600.00 per spouse or guest 18 years of age and over. Registration for children 5 - 17 years of age and under is $100.00 per child; however, registration for children 4 years old and under is free. Registration ends May 12, 2020.
REGISTRATION FEE INCENTIVE
The Electrical Contractors' Association of City of Chicago has approved the reimbursement payment of NECA Midwestern Regional Conference Registration Fees and a flat fee stipend of $800.00 for up to two representatives and their guest and/or spouse, if applicable, of participating ECA member firms. This was done in an effort to increase participation with this special event. We hope that you will be able to utilize this incentive for your attendance. Reimbursements will be made after the conference.
HOTEL RESERVATIONS
The Midwestern Region, NECA has reserved a block of rooms for arrival between Saturday, June 13, 2020 to departure on Thursday, June 18, 2020 on a first-come first-serve basis. If you wish to reserve a room outside the block dates or checking on suite availability, please contact Jeannie Johanns, Midwestern Region Office at: (574) 387-4446 or jeannie.johanns@necanet.org.
The NECA Rooming Block consists of: Classic = $349.00; Superior = $369.00; Premier = $399.00; Suite = based on availability. Visit the Broadmoor Resort website at: https://www.broadmoor.com/accommodations/rooms/ for room-type descriptions.
Room rates do not include applicable taxes (currently at 10.25%); a public Improvement Fee (PIF) of 2.95% will be assessed to all purchases at The Broadmoor. There is also a Daily Resort Fee of $32.00 per room. Rates are European Plan (no meals) and are single through quad occupancy, when utilizing existing bedding. Rooms come with either king or two double beds.
Guests may check into the resort after 4:00 pm and check out at 12:00 pm.
CANCELLATIONS / REFUND POLICY
Refunds less an administrative fee of $25.00 will be given for cancellations received in writing to jeannie.johanns@necanet.org prior to May 12, 2020. Following this date, no refunds will be given. However, you may send an alternate to the event without additional charge. Refund of registration fees less administrative fees – available from 30 days before the meeting. Alternates may be substituted at any time prior to the beginning of the event.
CHAPTER FUNCTION
The Association's Chapter event is scheduled for Monday, June 15, 2020 in the Donald Ross Room.
GOLF OUTING
A golf outing has been arranged for Tuesday, June 16, 2020 at 1:00 pm on the Broadmoor Golf Club East Course. Set in the Cheyenne Mountain foothills of Colorado Springs, The Broadmoor Golf Club is consistently ranked among the best in the world. The rate is $235.00 per player; rental clubs are $79.00, which includes a complimentary sleeve of golf balls; rental shoes are $36.00.
MEETINGS
Vice President's Reception - District IV & VII Council members, only, on Saturday, June 13th from 6:30 pm – 8:30 pm. Business Meetings – mornings of June 15 – 17.
ADDITIONAL SOCIAL ACTIVITIES
The Conference will open with an Opening Reception Sunday, June 14th from 6:30 pm to 8:00 pm. On Wednesday, June 17th, there will be an Awards presentation in the morning. The Conference will close with a Reception/Dinner from 6:30 pm to 10:00 pm. Details regarding recreation, spa services, dining and entertainment, area attractions and additional hotel amenities can be reached at the resort's website at: www.broadmoor.com.
REMEMBER:
Deadline for Registration is May 12, 2020.
Visit the Broadmoor Resort website for proper attire on resort - "Dress Policy" - https://www.broadmoor.com/hotel-policies/
District 4 & 7 Council meetings are only applicable to Council members.
If you have any questions, please contact the ECA at: (708) 531-0022.
---