Complete Story

02/18/2020
"Should I Stay or Should I Go?" Seminar
Please review the highlights of the seminar!
"Should I Stay or Should I Go" Panel Discussion
The Electrical Contractors' Association of City of Chicago (ECA), in conjunction with a number of area trade associations, assisted in presenting a panel discussion regarding the ups and downs of relocating a business. The program was held on Thursday, February 6, 2020 at the D.O.C. Wine Bar in Lombard, Illinois. This session was complimentary for members of the sponsoring groups: the Mechanical Contractors Association of Chicago (MCA), the Plumbing Council – Midwest, the Plumbing Contractors Association – Midwest, the Northeastern Illinois Chapter of the National Electrical Contractors Association (NECA), the Sheetmetal Contractors Association of Greater Chicago (SMACNA), and the Electrical Contractors' Association of City of Chicago (ECA).
Those that assisted with the panel, included:
Moving to a rental property - NECA Northeastern IL member Commercial Electronic Systems Inc (Ronald Lindsay);
Purchasing an existing building and rehabbing it - PCA member Ravinia Plumbing, Heating, Electric (Dave Ariano);
Staying and updating current location -- SMACNA member State Mechanical (Andrew Yonkus);
Built a new building- MCA member AMS Mechanical (Ben Campbell); and
Moderator: Joshua Hearne, SIOR Principal.
We thank those that were able to assist with this special session.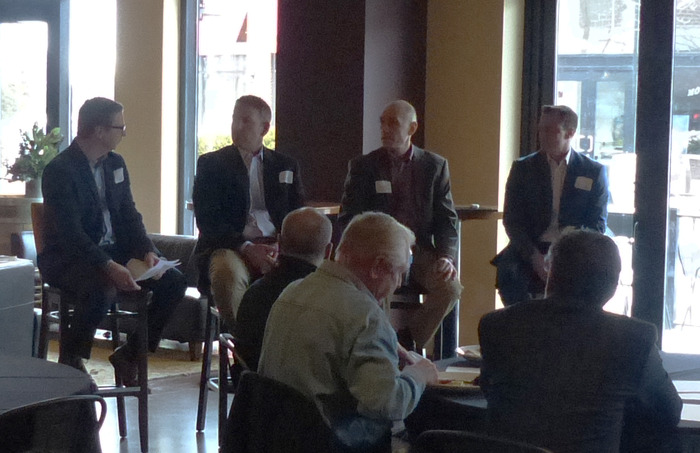 Pictured above is the start of the panel discussion.
---