Complete Story

02/18/2020
"Reasonable Suspicion" Seminar(s)
Please review the highlights from the "Reasonable Suspicion" Seminars!
"Reasonable Suspicion" Seminar
The Electrical Contractors' Association of City of Chicago (ECA) sponsored a complimentary seminar called, "Reasonable Suspicion Training - (Cannabis-focused)." The program was scheduled on Tuesday, February 18, 2020 at 10:00 a.m. - 12:00 p.m. with a repeat session at 1:30 p.m. - 3:30 p.m. at Five Westbrook Corporate Center, Link 2- 5 Conference Room, Westchester, IL 60154. The program presenter was William Heffernan, Co-founder, Employee Resource Systems, Inc. This course was geared for contractors and personnel in supervisory roles and provided an overview of Reasonable Suspicion follow-up concerning the new Recreational Marijuana Law in Illinois. As this new law certainly presents challenges for employers, it also included the amendment of the Illinois Privacy Act that provides protections to employees from adverse employment actions based on use of lawful products off of the premises. The new law also places limits on when an employer may consider an employee "impaired": specifically, the employer must have, "a good faith belief that an employee manifests specific, articulable symptoms while working that decrease or lessen the employee's performance."
Following this class, participants will be able to:
Understand the roles and responsibilities in making and documenting reasonable suspicion determination
Understand the costs and dangers of drug abuse in the workplace
Recognize the signs and symptoms of alcohol abuse and controlled substance use
Know how to approach employees in a professional and respectful manner
Understand how to initiate the reasonable suspicion process
We thank Mr. Heffernan for his time at the seminars.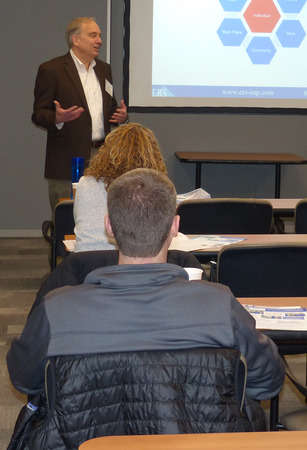 Pictured above is William Heffernan, Employee Resource Systems, Inc.,
as he began the program(s).
---