Details

December 11, 2019
3:00-6:00PM
ECA Chicago Holiday Party
Reception at The ROOF at the Wit Hotel
The Wit Hotel, 201 N State St, Chicago, IL 60601
Join ECA for an afternoon reception to celebrate the season!
We are excited to host this year's holiday party at the "ROOF on the Wit" hotel on State Street in Chicago. Spend the afternoon with your friends from ECA, and see some of the most spectacular views in the city!
An after party will be planned for those that want to continue into the evening. A special room rate will be offered for anyone wishing to spend the night. Click here to reserve overnight accommodations online.
This is event is Open House Style with a short ceremony to be held between 4pm and 5pm.
Business Attire requested. Complimentary Valet provided.
Please contact Carrie Spaeth with questions: cspaeth@ecachicago.com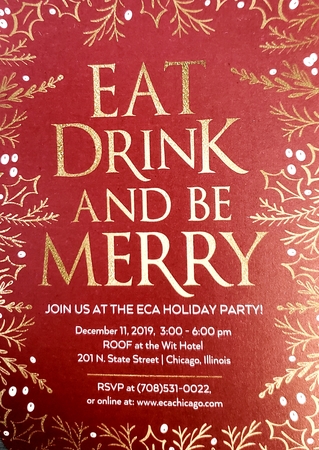 2019-12-11 15:00:00
2019-12-11 18:00:00
America/Detroit
ECA Chicago Holiday Party
Join ECA for an afternoon reception to celebrate the season!   We are excited to host this year's holiday party at the "ROOF on the Wit" hotel on State Street in Chicago. Spend the afternoon with your friends from ECA, and see some of the most spectacular views in the city! An after party will be planned for those that want to continue into the evening. A special room rate will be offered for anyone wishing to spend the night.  Click here to reserve overnight accommodations online.  This is event is Open House Style with a short ceremony to be held between 4pm and 5pm.  Business Attire requested.  Complimentary Valet provided. Register Now Please contact Carrie Spaeth with questions: cspaeth@ecachicago.com
The Wit Hotel, 201 N State St, Chicago, IL 60601
---