04/13/2023
ECA April Regular Membership Meeting - April 12, 2023
Program was held at Shaw's Crab House in Schaumburg, IL.
ECA Membership Meeting
Wednesday, April 12, 2023
On April 12, 2023, the Electrical Contractors' Association (ECA) held its Regular Membership meeting at Shaw's Crab House in Schaumburg, IL. The meeting was an opportunity for members to learn more about Powering Chicago and the benefits of increasing brand awareness for their companies.
Powering Chicago brings together the Chicago & Cook County Local Union 134 and the Electrical Contractors' Association of Chicago to promote the use of union electrical contractors on construction projects. Powering Chicago aims to promote jobs, provide apprenticeship opportunities, and encourage safety and quality workmanship.
Members were encouraged to participate in the Power of Better media to increase their companies' brand awareness. The benefits of branding were discussed, including increased visibility, customer recognition, and the ability to differentiate themselves from competitors.
Additionally, Don Finn, Business Manager for IBEW Local Union 134, and the newly formed Local 134 Codes & Standards Committee discussed their initiative to improve Electrical Commissions in every town and municipality, hoping to make the electrical industry the go-to resource for codes and standards.
The Electrical Commissions will provide education and training to local officials on electrical codes and standards and promote union electrical contractors' use. This initiative aims to improve safety and quality on construction projects and increase job opportunities for union electrical contractors.
Overall, the meeting allowed members to learn about essential initiatives in the electrical industry and network with their peers.
The next ECA Membership meeting is scheduled for Wednesday evening, May 10, 2023, at the Union League Club of Chicago in Chicago, IL.
This session will feature a presentation by Graybar overviewing an Economic Outlook at a national and regional level. The presentation will also provide an in-depth look at the Supply Chain issues affecting our industry. We hope to see you there!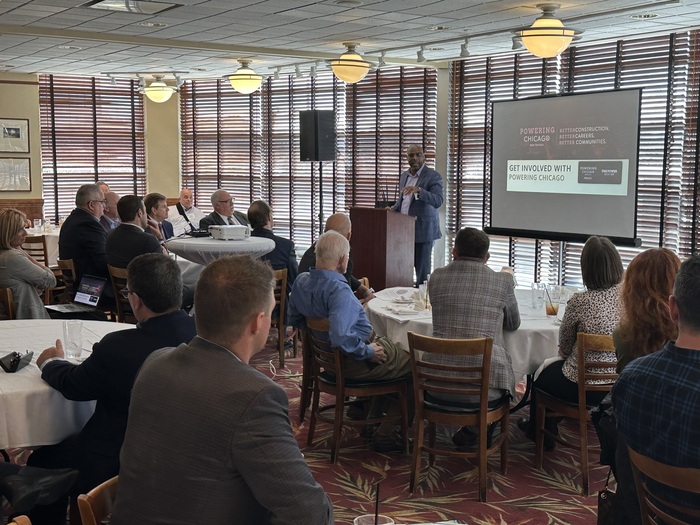 Pictured above are the attendees during Bert Walters' Powering Chicago presentation.
Above is Local Union 134 Codes & Standards Committee.
Pictured from left to right are:
Matthew Stolspart, George Mostardini, and Robert Hattier.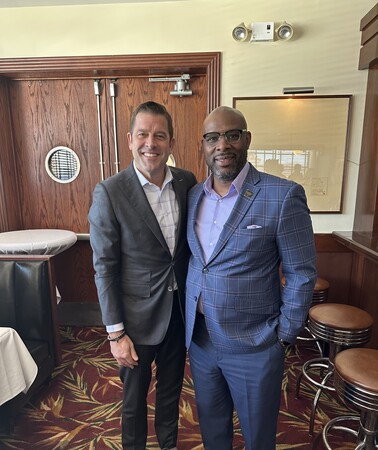 Pictured from left to right are:
Rob Johnson, Rob Johnson Communications.
Elbert Walters, III, Executive Director for Powering Chicago.