11/04/2021
NECA First Annual Safety Leadership Summit
The NECA Safety Leadership Summit was held on November 1 - 3, 2021
NECA's First Annual Safety Leadership Summit was held November 1 - 3, 2021 at Loews Chicago Hotel in Downtown Chicago. Over 180 individuals were registered for the Summit. Nearly a dozen representatives from the Chicago & Cook County Chapter, NECA took advantage of the stipend made available covering the cost of the Summit Registration Fee.
Numerous Safety / Leadership topics were offered during the Summit. A highlight on the second day of the Summit was the informational session concerning OSHA's COVID-19 Emergency Temporary Standard. Powering Chicago also sponsored a special evening Reception on November 2, 2021 at the D-4 Irish Pub & Cafe.
We thank all who were able to support and attend this Summit!
The Program was scheduled as follows:
MONDAY, NOVEMBER 1, 2021
Speakers: Jake Harriman
Driving Culture Through Growth
Speakers: Bill Hughes, Milwaukee Tool
Alliance Safety Leadership Roundtable
Speakers: Jennifer McNelly, American Society of Safety Professionals
Opening Reception and Exhibitors Trade Show
NECA After Party sponsored by Milwaukee Tool
TUESDAY, NOVEMBER 2, 2021
A New Capacity Model for Incident Prevention
Speakers: Matt Compher, Quanta Services
Developing an Arc Flash Mitigation Strategy
Speakers: Erik Odden, Schneider Electric
Risk Management Strategies for Managing the Impact of Injuries
Speakers: Mike Owens, Axis Risk Services
Speakers: Justin Azbill, Milwaukee Tool
Speakers: John Drebinger
Speakers: Mike Johnston, NECA
Q&A with NECA's Director of Outside Line Safety
Speakers: Mike Starner, NECA
Foundations of Safety Leadership
Speakers: Wes Wheeler, NECA
ET&D Safety Leadership in Action
Speakers: Mike Starner, NECA
Federal Vaccine Mandates and Testing Updates and Q&A
Speakers: Eric J. Conn, Conn Maciel Carey LLP; Aaron R. Gelb, Conn Maciel Carey LLP
Exhibitors Trade Show and Closing Reception
After Party sponsored by Powering Chicago
WEDNESDAY, NOVEMBER 3, 2021
Connecting the Dots: Safety & Workplace Culture
Speakers: Kahlilah Guyah, EHS Compliance Services Inc
The Impact of Construction Culture and Tradition on Worker Mental Health
Speakers: Bill Heffernan
Software Safety and Cybersecurity: How to Ensure the Safe and Secure Transition to Connected Systems
Speakers: Nicholas Alexiades, UL-CFSX
Please click the link below for further information on the topics that were discussed at the NECA Safety Leadership Summit: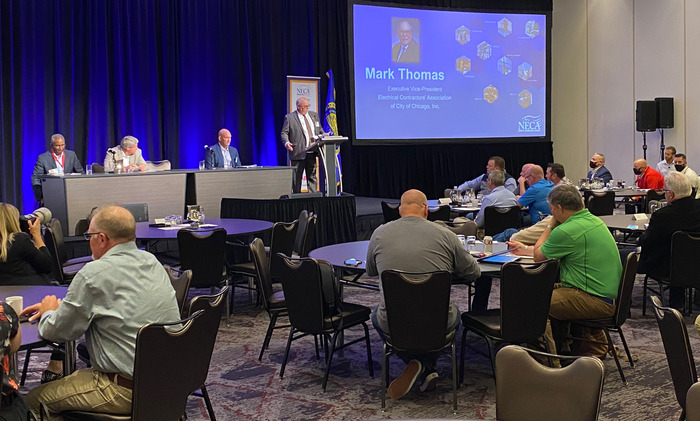 Pictured above is Mark Thomas, ECA Executive Vice President, as he welcomed the attendees.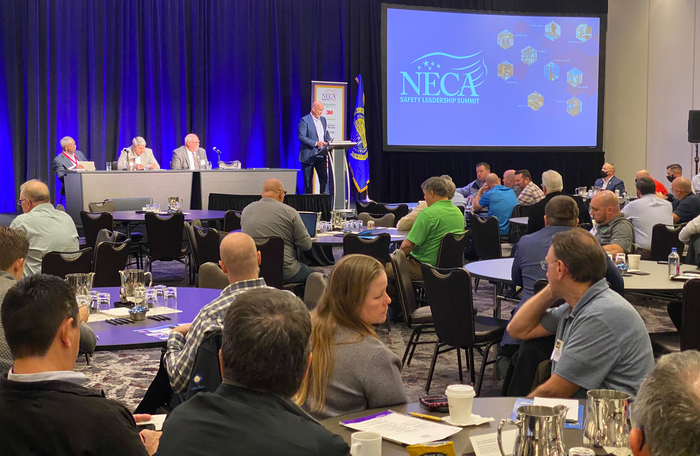 Pictured above is Jef Fagan, NECA Legal Counsel and Vice President, Risk Management,
as he moderated the Summit.