12/12/2019
ECA Members honored at annual Holiday Party
December 11th, 2019 at the Wit Hotel Chicago
Over 80 members attended this year's ECA Holiday Social on the ROOF of the Wit Hotel in Chicago on December 11th. Guests we able to enjoy panoramic views of downtown Chicago from Lake Michigan to State Street, and much of the City's skyline. New this year, the party was held as an afternoon social allowing members to stop by for a bit between busy holiday luncheons and dinners. We hope that everyone enjoyed the party and the new format, and welcome your feedback if you have any suggestions for future events!
Two members were honored by ECA President, Rick Jamerson, that evening. Advent Systems, Inc. received a plaque commemorating their 25th year as a NECA member. The presentation included a special letter from NECA CEO, David Long, thanking them for their ongoing support and membership.
ECA honored Steve Diamond with the "Recognition of Excellence" Award. This award commemorates Mr. Diamond's years of service as a full Trustee on the Electrical Insurance Trust (EIT) and the Joint Pension Trust of Chicago from 1997 to 2019.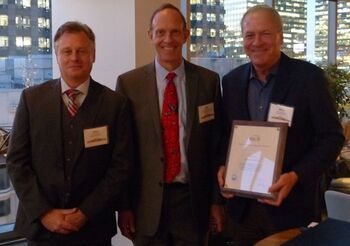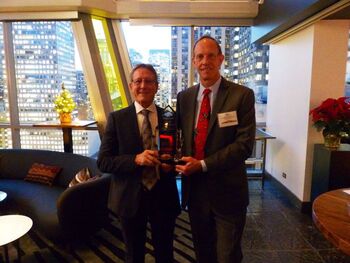 View the photos from the event online here.