Complete Story

10/11/2019
YP of ECA Fall Event Highlights
Chicago Department of Buildings Code Updates
YP of ECA Fall 2019 Event Highlights
The ECA Young Professionals (YP) Committee presented a YP of ECA Fall Event at the Kaiser Tiger in Chicago. Representatives from the Chicago Department of Buildings discussed the new code changes and their applicability to contractors, among other areas. The YP of ECA was excited to welcome the City of Chicago Department of Buildings Commissioner Judy Frydland, Deputy Commissioner, Grant Ullrich and Chief Electrical Inspector, Mike Reynolds. The attendees learned about how the new Building Code affects the industry. After the presentation and a lengthy Q & A session, the attendees enjoyed a Social Reception. The event was open to all ECA members.
Highlights of the presentation included the following:
Phase 2 Code Implementation
Energy Code effective June 1, 2019
Administrative Provisions effective July 1, 2019
Code published by ICC, mid-October 2019
Employee training, Fall 2019
Optional use of new code for permit applications, December 1, 2019
Minimum standards, Spring 2020
New Code Mandatory: August 1, 2020
Overall Key Benefits of New Code
Streamline permitting Process
Reduce barriers to cost-effective construction
Enhance Public Safety
Promote energy efficiency and sustainability
Facilitate innovative design and construction
Benefit from national code development efforts
All Buildings
Adopt IBC's widely-used classification system for construction types
Align terminology by using many IBC definitions
Adopts specific, up-to-date requirements for a wide range of building materials for walls, roofs, and other construction
Some additional requirements for high-rise buildings 80 feet and over 400 feet, but less than full IBC
Energy Efficiency
Implement new Chicago Energy Conservation Code based on latest edition of International Energy Conservation Code (2018)
Effective June 1, 2019
Applies for new commercial and residential construction, and also for major changes in existing buildings – renovations, alterations, additions and repairs
Stricter requirements for automatic / daylight sensitive lighting controls
Changes to lighting power density
Electrical – Phase 2 Changes
Secondary source of power not required for live pumps in buildings other than high-rises and hospitals
Where secondary source is utility service, overhead conductors not allowed
Standby power for elevators, smoke control systems, domestic exhaust systems allowed to be 60 sec., consistent with ICC/NFPA codes
Provisions on design of battery storage rooms (fire-resistance)
We thank Commissioner Judy Frydland, Deputy Commissioner Grant Ullrich and Chief Electrical Inspector Michael Reynolds for their time and expertise with the event. It is anticipated that the next YP of ECA event will be a "Happy Hour." Please watch for details regarding the ECA Young Professionals Leadership Conference to be held February 6 - 7, 2020 in Rosemont, Illinois.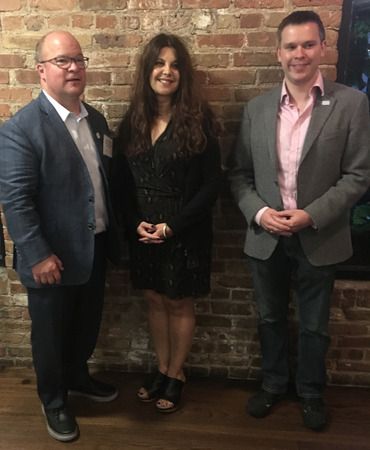 Pictured above from left to right are:
City of Chicago Department of Buildings (DOB) Chief Electrical Inspector Michael Reynolds,
DOB Commissioner Judy Frydland and
DOB Deputy Commissioner Grant Ullrich.
---